December 12, 1992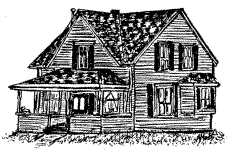 Ann Landers' article about bad Christmas letters a week ago reminded me it is time to write mine. If you find them offensive, just mutter something about engineers and chuck it. For those of you who are still with me, let me update you on the doings of the Frisinger household.
Like many others, we let the summer's airline fare war influence our travel plans. We had originally planned a car trip to visit friends and relatives in Oregon, California, and Texas. With the big discounts, we decided to fly to Michigan and down to Florida instead. We went back for Ava's thirtieth high school reunion, visited Ava's and my relatives and went up to David Whitaker's Island off the East end of Manitoulin Island. While at Dave's Island, Dave, Ava, I and Dave's dog decided on the spur of the moment to take a trip around the Island, a 200 mile journey in an outboard. We were just going to go part way but on finding calm water in Lake Huron, we opted to go all the way around making reservations at a completely unknown hotel on the far end of the Island. To humor Ava, we stopped off in a small town and got a tooth brush and paste. It was interesting to see three people register at a hotel with no bags save three toothbrushes and a tube of past.
After returning from the Island, Ava stayed in Michigan to spend more time with her relatives and I went down to Florida to visit my folks for a few days; then we both headed home together. I got down to Florida just a couple of days after Andrew visited there. Diane had been down just before Andrew arrived. My mother's health seemed to have deteriorated quite a bit since I had seen her last and my father's was getting some worse, also. The condo manager was definitely worried about them both, so we began to look into the possibility of Diane moving in with them to help out. Two days after returning to Seattle, my father died in bed, probably of a stroke. It is amazing how casually the medical community takes the death of an older person. The doctor just supplied the required information for the death certificate over the phone.
All the siblings quickly converged on Florida for the funeral and to work out how to care for Mother. Diane volunteered to stay down with her. Diane's offer has been a godsend for all of usand it has worked out very well.
On other fronts, my involvement with the Russian refugees has continued. This year I helped them through the hoops required to buy a home. They said the red tape involved was much worse here than in Russia, not a good sign.
Ava is serving her fourth year as Issaquah Council President and has been quite active working on one of the local Senate races. A Democrat finally won in this district. Of course, it was the year of the Democrats. Ava will be up for reelection next year. She may choose to run for another office instead. The mayor's spot will be open as well as a county council seat.
Robert is a Senior at the University of Washington and is living at a cabin that Diane found near where we were living before we moved into town. They both fixed it way up. The cabin at North Lake is what got them interested in cabins to begin with. Robert was even more involved in the campaigns then Ava. He managed the campaign of a woman running for the state house in the Republican Primary. It was a four way race. Robert's candidate came in second. Basically there were three normal Republicans and one Christian Fundamentalist. The Fundamentalist got a plurality and won the primary but lost in the general.
While on vacation and back in Florida for the funeral as well as for quite a while afterward, our house was being remodeled. We now have a foundation which will be able to survive THE BIG ONE. We also spruced up the kitchen, replaced the bathroom literally from the ground up and installed pipes, wires and ducts in the wall to support the addition of an upstairs bathroom next year. Living in a house with no bathroom on the floor with the bedrooms seems to be a growing problem as we become more "mature".
I am continuing to work a variety of jobs at Boeing. My current assignment involves a study of the safety of transporting nuclear warheads aboard C-141 cargo planes. One of the best aspects of the job is that it has quite a bit of travel associated with it. The most common destination is Albuquerque NM, one of the more interesting places in the US. It definitely beats LA, the most typical business destination for me.
To help give you a feeling for what is interesting us, I thought I would share our favorite books for the year. Robert's favorite was the Autobiography of James Doolittle (of "Thirty Seconds Over Tokyo" fame), Diane likes the books by Ann Rice, particularly "The Tale of the Body Thief" and "The Queen of the Damned". Ava liked the book, "The River Runs Through It". The movie was excellent also. My favorite was "Plaines of Passage" the latest in the "Clan of the Cave Bear" series. Of course you always have to take another's recommendations with a grain of salt. My sister, Mary, and Diane rented the movie "Black Robe" after hearing me rave about it. They found it depressing. My answer is nonsense, see "The Killing Fields" for a depressing look at what we really are.
Have a good Christmas and may Christ be with you in the coming year.