December 13, 1993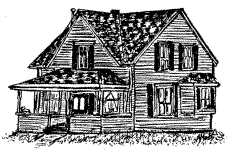 The plague of Christmas form letters continues. However, I assure you that with my hand writing you will find this much more readable, although you will miss the chuckles over the misspelled words. I have Ava check this pretty closely.
Diane has returned home after spending a year in Florida taking care of her grandmother. Diane's willingness to help out after my father's death had been a godsend to all of us, but it was time for Diane to get on with her life. It is good to have her back with us again. Of course, at her age "with us" means living in the same county as us and dropping by every week or so.
Both Diane and Robert are dating very nice people. It is a another brother/sister team who get along as well as Diane and Robert do, so they make a good foursome. You will probably be hearing more about Troy and Amber Argraves in future issues of this newsletter.
The biggest news with Ava and me was the Issaquah Mayoral race. Ava decided to take on the incumbent mayor, something which has not been even attempted in Issaquah in as long as we could remember. I functioned as Campaign Chairman. Election night, we were 60 votes ahead, but two weeks later when all the absentees were counted, we were short 14 votes. Ava got 49.75% of the vote against an incumbent that won an open seat last time by 68%. We did well, but as you know, close only counts with horse shoes and hand grenades. Ava is also off the city council because her seat was up the same time as the mayor's race. Next time Ava will win, but the four year's wait will be hard.
Right in the middle of the campaign, Ava's favorite cat, Abelard died having reached the ripe old (for a cat) age of 15, When things settled down after the campaign, Ava got a new kitten, Cadfael who is now four and a half months old. Cadfael is a Maine Coon cat and the first pedigreed cat we have ever had. Cats cost you so much in the end, that even I could not justify scrimping on the original price.
With mother being quite ill in Florida, I have been taking a fair number of trips down there. On one of them Ava and I split up with Ava going directly to Michigan to spend time with her relatives there, while I went to Michigan via Florida. After a few days, Ava and I joined up in Michigan and again went up to David Whitaker's island off the East end of Manitoulin Island. We were the first party up to the island for the season, so after a long day on the road, we had to open the place up at least enough to eat and go to bed the first day. It makes for a busy time. Some time we are going up there in the middle of the season, but that has not seemed to be the way it has worked out for quite a while.
Things are staying busy at Boeing in spite of what you read in the papers. Boeing has cut back about 15% in the last two years due to declining and canceled orders. We sold only one 747 this year, for example. We are selling about one plane a day of some type but are currently making 1.5 planes a day so there is an obvious problem. It looks unlikely that there will be any layoffs in my discipline since Boeing is continuing to develop new models. One of the airplanes I have been working on made the September 1993 cover of Popular Mechanics. It is a diamond wing surveillance airplane for the Navy. Unfortunately funding for the program is extremely shaky, so I may or may not work on it any more.
Our home remodeling continues. Robert has totally remodeled the bedroom he used to use. We now have a very attractive guest room. He is also working on an upstairs bathroom. The room has been closed in, but none of the finish work has been done yet. We are hoping for great progress over Christmas vacation.
Let me again pass on our favorite books for the year. Robert's favorite was De Bello Gallico by Julius Caesar. He was reading it in the original but you may prefer the translated version, the Gaelic Wars. Diane liked Lasher by Ann Rice (My sister Ann wants Diane to send it on to her so it gets another vote of approval there). Ava and my favorite was "Guns of the South" by Harry Turtledove. The story is predicated on the idea that a group from South Africa, concerned about the direction their country is taking, travel back in time to the Confederacy and supply them with modern guns so that the South will win the Civil war. They do win, but the outcome is still disastrous for the people from South Africa. The book gives a very good sense for the time of the Civil War. Ava and I keep up with the latest in the Kinsey Milhone mysteries by Sue Grafton, the Tony Hillerman Navaho mysteries and the Brother Cadfael medieval mysteries by Ellis Peters.
Have a good Christmas and may Christ be with you in the coming year.