A Christmas Message from Bill and Ava Frisinger December 1999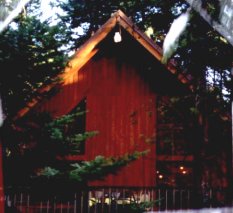 The lead story this year is Rob is now is a home owner. Last year I reported that high housing prices had forced Diane to get a house about 20 miles east of us in the foothills of the Cascades. The same forces have driven Rob and Amber to get a house about 40 miles east of us and about 10 miles east of the pass over the Cascades. The good news is that housing prices are even more reasonable over there. The bad news is that bad weather can close the pass for 2 or 3 days at a stretch. (To see what the weather is at his house, check the local WSDPT camera The camera is only about a mile away) Rob is still working on this side so he as to commute daily across the mountains. Their address is 31 Rally Way (P.O. Box 506) Easton WA 98925, The phone is 509-656-3232. Easton is a very small town that is well up in the mountains on the eastern side. The snow averages about 2 feet all winter with occasional snows that are up to the windows. There was a forest fire about a mile from their house last summer that took a couple of days to put out. Rob had to give his address to get past the police barricades. They of course used ground crews, airplanes and helicopters to fight the fire. Things really got interesting when they used explosives to build a fire line. It was loud enough to permit Robís dog to go through a hole in the porch railing that he never fit through before. It was also about a 8 foot leap to the ground. That was one scared dog.
The subject of barricades brings up the WTO conference in Seattle. We thought Seattle was getting a lot of press with Microsoft and Boeing but the WTO put the other coverage to shame. Even Issaquah got into the act sending nine officers to help with security for the President when he came. They were on duty for 12 hours starting at midnight. Not wanting to lose my credentials as a liberal, I marched Monday night with a large group from the Church Council of Washington. It was in support of the 2000 Year of Jubilee, the forgiveness of debt to the poorest of the 3rd world countries.
Grand children are of course a central part of our lives. For reasons that I have still not figured out, Amber trusted me to take Joshua to the Museum of Flight by my self. Getting him out of their hair was no doubt a factor, Kaleigh was going to a concert with Rob. I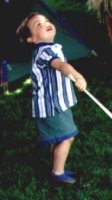 was loaded up with diapers and related paraphernalia appropriate for a child not yet 3 and we set out. The first rule of visiting museums with kids of any age is let them set the agenda. It turned out that the thing Joshua liked best of all was sitting in the cockpit of various fighter airplanes. The fact that he could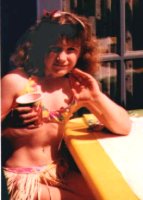 not see out did not seem to be a problem at all. All went well and I had to drag Joshua way about 3 hours later. Everyone wanted to know how it went. Did I have to do a diaper change? I explained no, I did not look for trouble and it did not find me.

This summer we attended my nephew Arthur Salomonís wedding in the San Francisco area. We took a week to drive down visiting numerous friends and relatives on the way. It was a great wedding and offered a great excuse to visit people we had not seen in years.

Weddings brings to mind the next for my family. Diane and Scott Lindstrand are planning on getting married next summer. Stay tuned for details or better yet, pester her. She now has an e-mail address, http://home.earthlink.net/~mrandmrsstuck/

Ava is continuing to enjoy being Mayor. She is kept busy with a huge number of meetings both inside and outside the city. She serves on three committees working endangered species problems. The Riparian Habitat (Streamside) restoration committee, the Sammamish Watershed Forum, WRIA8 Steering Committee for Early Recovery Programs, the Draft Interlocal Subcommittee for Tri-county Salmon Recovery Efforts. This is in addition to 3 different human services committees and The Seattle King County Board of Public Health. Two critical City Council races went her way this year so it should be a better working relationship the next two years.

My job will be quite different in the coming year. Some time in January or February I will be going down to Edwards Air Force Base in California in the high dessert east of Los Angeles. I am part of the flight test team for the X-32, the JSF or joint Strike Fighter. I will stay with the plane throughout the flight test program which is due to wrap up at Pax River Naval Air Station east of Washington DC. It should be done around November 2000 but both schedules and budgets are uncertain at this time. Once the flight test program is done, I will retire.

My favorite book of the year was Birdsong by Sebastion Faulks, it was Avaís from last year. Avaís favorite this year is Angelaís Ashes by Frank McCourt. I have not read that one yet so it may turn out to be mine for next year.

I can be reached all year at my work e:mail, william.n.frisinger@boeing.com, Ava will be checking our home e-mail, frisinger@csi.com

There is not much new on our web site but I hope to get it completely revamped next spring when I am stuck in California. In theory we will not be working massive overtime although we have heard that story before. Our web site is at: http://ourworld.compuserve.com/homepages/frisinger/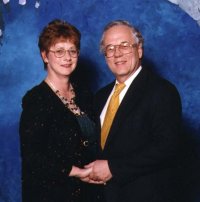 Bill and Ava at Issaquah's Millennium Ball