The big news this year is that our son Rob and Amber have bought a 10 acre "Ranch" near their old house in Easton Wa.
The property also includes a barn and large garage. Five acres are in pasture. The property comes with a number of challenges. It was fenced for sheep not horses. The house began with one bedroom and it is about 1.5 miles from a public road. As they are in an area of heavy snowfall, plowing is an important issue. They have almost three feet on the ground as I write this.
He has raised the roof and added two extra bedrooms upstairs. We have all worked on adding fencing and modifying the barn. We have about three acres fenced in now with fencing that will hold horses. The sheep fence is completely buried in the snow in places so it definitely is not high enough for horses. The property came with an ancient snow plow which currently is not working for reasons which are not obvious. It can't just be taken into a garage because it is not licensed and has no title.
We have moved our horses to the property. Our herd is also growing. Last year we had a very gentle 20 year old mare Patty Shus and my more rambunctious nine year old gelding, Shadow. This year we have added a gelding, Shamrock, for Kaleigh, a free horse, Junior for Rob, and just a few weeks ago a 14 year old Appaloosa mare named, Ms K, for Joshua.
I am getting much more steady in the saddle. I think the only time I got thrown with enough force to feel sore afterward was when I was attempting to ride bare back and startled Shadow when I was getting on. The requirement for bronc riding is staying in the saddle 8 seconds. My time was way below that, but I have faith.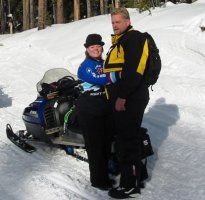 We are getting good use of our Condo at Silver Star near Vernon BC. We have used it about 35 days this year. I was up for two weeks with Diane and Scott. They found the snowmobiling to be much better north of the border because of less people and "mo' better snow". Needless to say, Diane's back is much better. She was really bummed out by not being able to ride the previous year.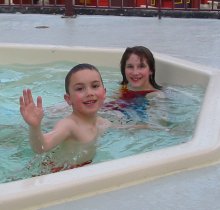 Rob, Amber, and the Kids were up for a week with Ava and I. Joshua has turned six and all of a sudden is enthusiastic about down hill skiing and it looks like he's going to be a natural at it.
While Ava gets on the local TV stations fairly frequently. I made national television this year. It was only a 5 second shot in which I was staring at a monitor in the Flight Control Room but you have to take your national publicity any way you can get it. It was in the Nova program on the competition for the JSF contract to build a new fighter. I appear in the first 4 minutes and then the same shot is repeated a few more times later on.
Ava is half way though her second term as mayor of Issaquah. Everyone is asking if she will be running for a third term. The local newspaper was quizzing her on that subject just today. Ava is willing to step down if someone she has confidence in is willing to step forward but so far the only people who seem willing to run are people that Ava feels are not currently up to the job. Ava feels a great since of loyalty to the community and employees of the city and does not want to turn the reins over to just anybody.
This was a year for weddings in our extended family. In April we went down to Texas to attend the wedding of Joshua, my brother Jim's son to Omideh Taghavi. August found us in Ithaca New York for the wedding of my sister Ann's son, Taylan Sen to Jamie Block. While in Texas we visited Big Bend National Park and while in New York we toured the Finger Lakes area. During our travels to New York we spent a dark night in Stratford Ontario during the big power failure in the east.
I have two favorite books for the year. For serious readers I recommend the Wide as the Waters, the Story of the English Bible and the Revolution it Inspired by Benson Bobrick. For lighter fare I recommend the books in The No. 1 Ladies Detective Agency series by Alexander McCall Smith. It is a mystery series set in Botswana with lots of local color.
Ava's favorite is Reading the Bible Again for the First Time by Marcus Borg.
Rob, Amber and family are reading as a unit and their favorites are Mara, Daughter of the Nile and The Golden Goblet both by Eloise McGraw and Charlotte's Web by E. B. White.
Diane was forced to read a J.A. Jance and fell for both the J.P Beaumont and Sheriff Brady series. But her favorite was Blood Canticle by Anne Rice which she finished about 12:30 in the morning. Scott's favorite book is Thomas Guide by Rand McNally.

Wishing you all the best in this Holy Season.
May God's Love be with you now and throughout the coming year.
Yours,

My electronic address is, bill@
frisinger.net
Ava's is ava@frisinger.net .
Our web page is: www.frisinger.net

Other Years
Rev. 1/2/04