Previous Page
The Thompson House
Built 1901, 415 SE Bush St. Issaquah WA 98027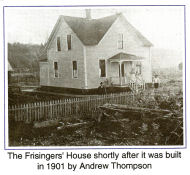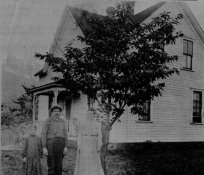 The Thompsons built this Home in 1901. It is still standing at 415 SE Bush Street, but is no longer owned by the family. This photo was taken around 1910, and the logged-off Lake Tradition plateau can be seen In the distance (In the original photo)
From right, Mary Booker Thompson, Andrew Thompson, end their eldest daughter Mildred. Photo Courtesy of Anne Anderson, The Thompson's next younger daughter.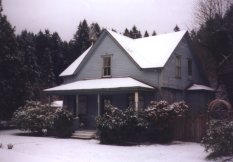 The house as it appears today. 2000. The expanded front porch, the bay window on the west side and inclosing of the back porch were probably all done in the remodel done in 1913.


In 1889?, 13-year-old Andrew Thompson arrived in Issaquah from Norway. He had made the long journey on his own, leaving behind a big family and a small farm. In later years when someone asked if he had been afraid to come to America on his own, he replied: "My shoulders were broad, and I was not afraid of hard work."
That was Thompson's philosophy for the rest of his life. He went to work right away upon his arrival in Issaquah, and spent 20 years in the local coal mines. Finally, he had enough capital to start his own chicken farm, an enterprise that was quite successful.

Imagine standing on Bush Street, just southeast of City Hall, in the 400 block. Looking south, up the hill toward Darst Street, picture chickens as far as the eye can see. That was Thompson's farm.

In 1901, he married Mary Becker. They met at a Bush Street boarding house where she worked and he lodged. The couple spent their entire lives on that street, and all three of their daughters were born in the house they built. The eldest, Mildred Paulsen, died in 1979, but Anne Anderson and Esther Smith still live on part of the family's original property. Grandson Dale Anderson and great-grandson Paul Anderson are the third and fourth generations of the Thompson family to call Issaquah home.

Taken from an article in the Issaquah Press, Wednesday March 28, 1990. and is now part of their Issaquah Press Pioneer Families. The article stated his age as 17 but the family now believes that 13 was the correct number.
The street name and house address have changed through the years. The street used to be called "Hill St." and the old address found on the house is 529. The modern picture of the house, taken in about 2000 was not part of the article.
See http://www.frisingerfineframing.com/1901-thompson-house.html for an article about the house including the kitchen remodel.