The Frisinger Horse Pages
Amber, Kaleigh, I, and occasionally Joshua have been taking horseback riding lessons since August 2001 at Dragonwood Ranch in Cle Elum about 15 miles east of Easton (where the grand kids live). Our instructor is Shannon King who is John Lyons certified so she has an excellent background. Unfortunately the ranch is about 70 miles east of Issaquah the other side of Snoqualmie Pass.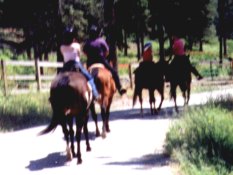 This is one of our first trail rides. Shannon King our instructor is in the lead with a lead rope on Josh's horse. Amber is next with Kaleigh behind her. I bring up the rear.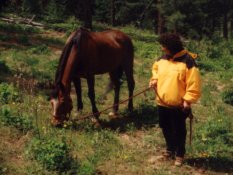 May 3rd 2002, we took the plunge and bought a horse, Patti Shus, a 20 year old Quarter Horse. A saddle shortly followed. Check here for more details.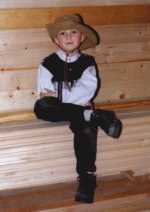 Joshua has decided he wants to manage the operation Why ride and risk you neck?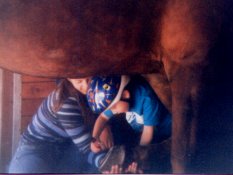 Double click here to see collection of some of our earlier pictures