Committees Ava Served On in 2009
As an Official Representative of the City
Past Committees Ava Has Served On
As an Official Representative of the city
Committees Ava Served On in 2009
As an Official Representative of the city
Water Resource Inventory Area 8 (WRIA8)-Lake Washington/Cedar/Sammamish Watershed, Member Steering Committee since it began in 2000. This organization was an outgrowth of the Lake Sammamish Watershed Forum representative and Lake Washington-Lake Sammamish Watershed Forums.
Ava has been a representative on the earlier organizations since 1998 and was a team member/author of Water Resource Inventory Area inter-local agreement template for endangered salmon recovery plan, 1999-2000.
Suburban Cities Association Public Issues Committee since 2005
King County Joint Recommendations Committee for Community Development Block Grants-Housing Funds, Suburban Cities representative and committee chair Since 1998. This committee was an outgrowth of the King County Joint Policy Committee for Community Development Block Grants where Ava was the Suburban Cities representative as well as Chairperson 1993; Vice-chair, 1992
Seattle King County Board of Public Health, Appointed by the County Executive to represent Suburban Cities, Alternate 1998 - 2001, Board Member 2002 to the present.
Eastside Transportation Partnership, Since 1996.
.Puget Sound Regional Council, Member, Since 1993
Mountains to Sound Greenway Trust Advisory Council Since 1998 a position voted on by the MTSG Board of Directors.
A Regional Coalition for Housing, ARCH, Executive Board Since 1998.
Chair, King County Jail Assembly Group and Executive Board 2004-present. Reviews jail service contracts for cities within King County to keep costs down and determine most effective service provision for cities, 2004-2005. Appointed by the Suburban Cites Association.
Numerous ad hoc committees
Current Committees Ava Serves On in 2009
As a Volunteer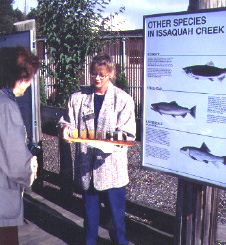 Friends of the Issaquah Salmon Hatchery, Charter Member (1992); Issaquah Creek Basin Plan Management Task Force Member, 1995-1996; Board Member Since 1994; Docent Since 1995; Vice-president, 1998-2002, President since 2002.
Greater Issaquah Chamber of Commerce, Long-term Member, and (1993 Ex Officio) Board of Directors, Member Housing Solutions Committee, 1993-1994.
Member Steering Committee for Sustainable Seattle Sustainability Indicators, 2004-2005. Member Sustainable Seattle Blue Ribbon Commission on Green Building, 1998. Working to ensure that cities throughout the Puget Sound region act wisely environmentally, economically, and socially to leave a legacy for future generations. Appointment at request of Seattle Council Member, Richard Conlin.
Friends of the Library, Issaquah, Life Member.
Issaquah Historical Society, Member.
National Trust for Historic Preservation, Member Since 1996.
Nature Conservancy Member Since 1996.
Member Bishop's Committee (Governing board) and serving on the Finance Committee at St. Clare's Episcopal Church since 2004.
Past Committees Ava Has Served On
As an Official Representative of the city
Issaquah City Council, Member 1986-1993 and 1996-1997, Deputy President 1987 and 1998, President 1989-1993
Served on all five City Council Committees:
Community Intergovernmental Relations (Chaired)
Finance and Personnel (Chaired)
Land Use Planning (Chaired twice)
Public Safety (Chaired)
Utilities
Issaquah Planning Commission/Planning Policy Commission, 1982-1985 Vice-Chair, 1984; Chair, 1985; Member 1994
Regional Law, Safety and Justice Committee, Suburban Cities Representative, 1998-2000
Suburban Cities Association Representative to the Regional Policy Committee, 1998-2003
Suburban Cities Association Management Board, 2001-2004 at which time the Management Board was dissolved.
King County Regional Policy Committee, Suburban Cities Representative, 1998-2003
Human Services Roundtable, Issaquah Representative, 1989-1993,
1996-2000
Past Committees Ava Served On
As a Volunteer
Planning Accreditation Board, Board Member (National), 1996- 1998
United Way Eastside Operations Council, Member, 1995-2000
Issaquah Youth Advisory Task Force, Member, 1994-1995
Police Station Bond Campaign (COPS), Co-chair (68% yes vote), 1995
Library Bond Campaign, Facilitator and Advocate (Successful Campaign), 1996
Global Action Plan Eco-Team Member 1996; Community Advocate, 1997, secured $50,000 King County Grant for Klahanie Eco-Teams.
Downtown Issaquah Comprehensive Plan Review Committee, Convener, 1993-94.
Issaquah Vision Roundtable, Member, 1996-1998
Issaquah Middle School Writing Challenge Reader, 1989-1991
King County Executive's Citizen Advisory Committee on United Countywide Government, Member (King County- Metro merger), 1978
Eastside Human Services Council Board of Directors, 1991-92; Executive Committee, Secretary 1992; Transition Team Member, 1992.
Municipal League V.O.T.E. ( Voices on Tomorrow's Elections) Pilot Project, Steering Committee Member, 1992. Student polling place volunteer, 1992.
Instructor, Elder Hostel class on land use planning in the Puget Sound area from WW II to the present, 1991 and 1992
Citizens Advisory Committees on elementary school language arts curriculum and secondary school biology curriculum for the Issaquah School District, Member, 1978-1979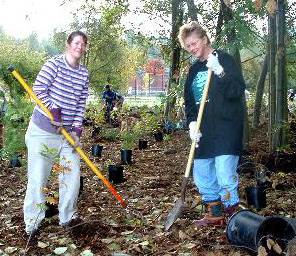 Sammamish Stewardship Day Volunteer, 1993,1995, 1997-1999, 2003
Mountains to Sound Greenways restoration volunteer, multiple times over the years.
Sole Proprietor, Green Heron Consulting 1994-1996
President, Green Heron Consulting, Inc. 1997-1999