A Christmas Message from Bill and Ava Frisinger, December 2000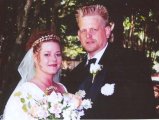 The lead story this year is the wedding of our daughter Diane to Scott

Lindstrand.

It was a beautiful Summer wedding in an idyllic Northwest setting. It was in a park at the base of Rattlesnake Ridge on the shore of a small lake. The weather was beautiful, if a little hot for those wearing tuxes. We share Diane's excitement at finding such a wonderful young man. One of the interesting sidelights of the wedding was the person who conducted the service. It was Ron Sims, a Baptist minister, better known to many as the King County Executive. It was Diane's idea and she is the one who asked him. He did a wonderful job and was very modest. When he was asked what church he had, he just said that he was a chaplain and did not have a church of his own. He never mentioned what his day job was.

You can get to Scott and Diane's web page from a link in ours, www.frisinger.net

It will probably still be under construction when you see it.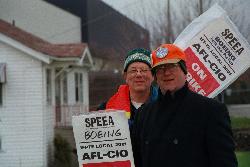 The runner up story is the Boeing Strike. We were out for about 40 days. The Company did not think we could pull it off. We had our doubts also. It was as successful as any strike is. We ended up with a contract with no give backs. The main benefit was that we now have a credible threat. A major cause of the strike was general dissatisfaction with the way the company has been run since the merger with McDonald Douglas. The company seems more intent on short term money making schemes then making airplanes. Of course engineers inherently have a more balanced view of the problem then management (management in St. Louis particularly).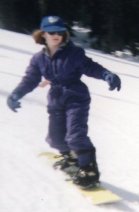 Grandchildren are of course a central part of our lives. I was teaching Kaleigh how to snow board last winter. I am a novice on the thing my self. It looks like this winter she will probably get better than me. If she gets too good I will switch to my skis. I should be able to keep up with her for a few more years that way.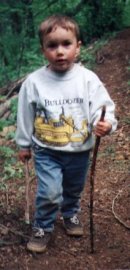 Last summer I started Joshua hiking and will do some cross country skiing with him this Fall. He loves hikes but gets tired and cranky the way kids his age do. It takes a careful balance to get the proper length hike.
Ava is really coming into her own as Mayor. Next year her term will be up. She is tentatively planning on running for one more term. Two terms are a tradition in Issaquah.
I took 2 trips to David Whitaker's Island in Georgian Bay in Lake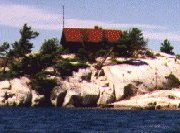 Huron. Ava accompanied me on the second one. The big job this year was to work on the harbor. The lake was very low which meant both that the harbor was excessively shallow and the sea wall was well exposed making it an excellent time to work on it. Physical labor is good for a change but I sure would not want a steady diet of it, especially at my age.
Ava and Diane attended the wedding of our niece Suzanne MacDougall and Rob Avila October 4th in Schaumburg Illinois. The next day they went to see Diane's good friend Teresa and celebrate her triplet daughters 2nd birthday. It was about a 400 mile trip a third of it thought the first snow of the year.
I moved down to Lancaster California in late April to work on the flight test for the Boeing Joint Strike Fighter, JSF, or X32. (Video, Pictures) In theory I would be done in California by the end of the year then would spend a few months at Pax River Maryland to finish up the program. I will still spend a few months in Maryland to finish up but it may be this fall before that happens.
The work is very interesting. I am working at Edwards Air Force Base, which is the main Air Force test facility, so I am surrounded with all kinds of aircraft. B1, B2, B52, F22, F14, F16, F18, F117, T38, C5, C17, X35 (our competition), V22 (Osprey), XC10 and the Global Hawk, are normal things to see. There are 3 SR71's around that NASA uses. For more interesting fare I have watched the Shuttle land and then take off aboard the 747. It looks like quite a load. (As a side note, I earlier worked on the horizontal tail of the 747 that carried the space shuttle) also saw the X38 land while it was hanging from the largest parafoil in the world. It is being developed as an escape module for the space station.
My job in all this is to monitor forces on the airframe to see that they stay within the expected range. When the airplane is up I am in a windowless control room staring at a computer monitor. The control room looks like something out of the moon shots. In reality the room is somewhat smaller and the computers are much better.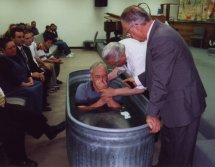 I have taken an opportunity to grow spiritually while down here. I have joined the Apostolic Shepherd Fold Church. It is a Pentecostal church which believes in the Oneness of God. That basically means that they view the Trinity as revisionist theology. I now view two hour services as the norm and if we get on a roll, it can easily be three, even for the Wednesday evening service.
My favorite book of the year was The Shipping News by Annie Proulx. It was highly recommended by both Ava and Diane as well as a diverse collection of friends. It is a simple story told in a very interesting way with the most unusual sentence structure I have seen in ages. Being Mayor has kept Ava quite busy but she has gotten some reading in. Her favorite is any from the Patrick O'Brian British Naval series set in the time of the Napoleonic Wars. It is a 20 book series so even Ava has not gotten through them all.
Rob and Amber's favorite is Deep South by Nevada Barr. The protagonist in this series, Anna Pigeon, is a law enforcement officer with the National Park Service. The books are always passed around the family for all to read. My granddaughter, Kaleigh, feels Harry Potter and the Chamber of Secrets is the best one she has read. Diane found both comfort and enjoyment in Take Your Time, Finding Balance in a Hurried World by Eknath Easwaran a book that teaches the beginning steps to meditation.
Ava and I currently have different e-mail addresses. Mine is bill@frisinger.net and Ava's is ava@frisinger.net . Our web page is: www.frisinger.net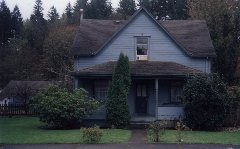 We have not ever enclosed a picture of our house so I took the liberty to do it this year. If you look closely you will see the small house in back on the right that Rob and Amber lived in when they first got married. We thought it was great having them so close but they felt a little cramped having a family of 4 in a one bedroom house. I do think that is a record for the house. If you look very close you may see the cat walk on the right side of the house that the cats use to get to the cat door in the upstairs window.
Wishing you all the best in this Holy Season.
May God's Love be with you now and throughout the year.
Yours,
Ava and Bill Frisinger