Previous Page
This island is in McGregor Bay, at the north end of Georgian Bay, just north east of Manitoulin Island in Lake Huron. It is the place that Ava and I have been going to for a week or so most summers since the 1960's until its sale in 2006. The island is about 2 acres and was owned jointly by three siblings, one of which I have known since grade school.
(For an 800X600 image of the island, double click the picture, for a 1280X1024 click HERE)

While this is the story of one cabin on one island in Georgian Bay, I hope it will be of some interest to anyone who has a fondness for cabins anywhere. This cabin is not for rent but there is info on ones for rent in the RELATED LINKS section at the end of this page.

Note: Try double clicking on all pictures, most have links (as shown by the way the curser changes shape when it is over it) Ditto for underlined text in blue. There may be a menu item at the back of the new page that will bring you back or you may have to use the back arrow in the upper left corner of your browser.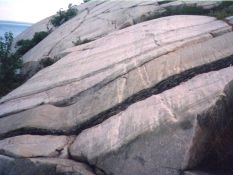 Geology and History of the Island and Region
One billion years ago to present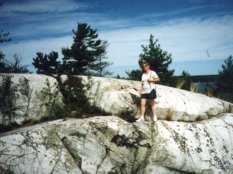 Mystery Trail
This is one of the most popular trails on the island. It is the most popular trail to take in the dark. Click on the picture to see where it leads. The ledge is about 12 to 18 inches wide with a drop off of about 15 feet to a gully filled with wild blackberry brambles.

Astronomy and the Northern Lights
There is no better place to star gaze then the island.