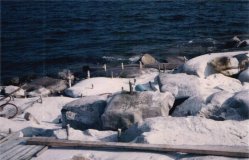 This is what the harbor looked like just prior to the first blast. The blasting was done in two phases, not to facilitate the blasting but to make it possible for key people to see the blast before they had to leave.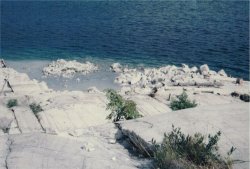 Harbor after 2nd blast.
In years when the water is near the record low since the harbor was formed, rock removal is a priority. 2003 was one of those years. The water is about 13 inches higher in 2004 so no problems this year.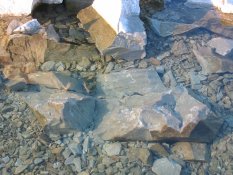 This rock at the edge of the harbor entrance had been a continuing problem. We had used a sludge hammer on it for years and made some progress but sludge hammers do not work under water. The rock is about 1.5 meters by 0.7 meters (4.5 feet by 2 feet). It had significant chunks removed by the time this picture was taken.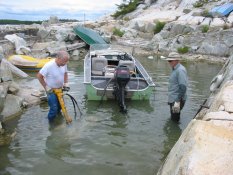 Here Bill Frisinger is really getting serious about getting rid of the rock. Jim Whitaker is taking a break from running the jack hammer. For a video of the jack hammer in use, click HERE but only if you have broad band. It is a 3.8 Meg file. For a much sorter version for those with dial up connections click HERE.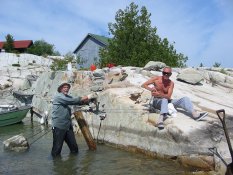 Once the rock is small enough to move then other means come into play. Dave and Jim Whitaker are both using come-alongs to move the rock.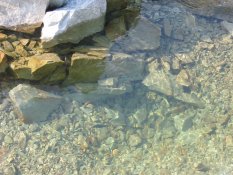 Victory at Last
As this picture shows, we finally got completely rid of the rock.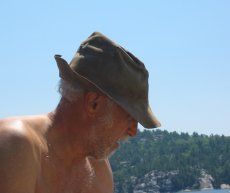 Jim Whitaker has been working on the harbor and its upgrades for 30 some years and you can tell it has taken a toll on him. He looks like an old man now.