Ann Arbor Graves of Frisingers related to
Rolla Nathan Frisinger Born 2/19/1890 and
Destina (Tina) Robison Born 11/25/1888
This is the Frisinger burial area at Forest Hill Cemetery in Ann Arbor Mi.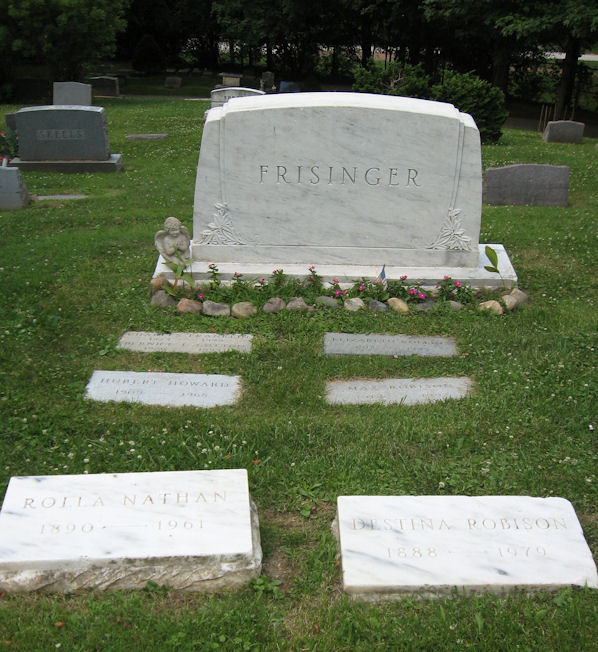 Charles Franklin (Frank) (Frisinger) 1923 - 1998 and his wife Bernice (Bea) L Cotton 1920 to 1999. Frank was the 6th and last child of Rolla and Destina.

Elizabeth Collins, 1913 - 1995, wife of Max Frisinger




Herbert Howard (Frisinger) 1909 - 1968, the 1st child of Rolla and Tina.

Max Robison (Frisinger) 1914- 1992, the 3rd child of Rolla and Tina.



Rolla Nathan (Frisinger) 1890 - 1961

Destina

(Tina)

Robison

(Frisinger) 1888 - 1979
On the other side of the main marker is:
| | |
| --- | --- |
| Cleo Edward (Ed) 1912 - 2003 and his wife Mary Agnes Swanwick 1912 - 2001. Ed is the 2nd child of Rolla and Destina. | |

Berried elsewhere are:
George Paul 1916 - 1989 buried along with his wife Eloise Schrier, in the North Lake Cemetery which is located in Dexter Twp., Chelsea, MI. The Cemetery is about 0.3 Miles south of the Inverness Inn (which is on North Territorial) and is located at the interesction of Westbourne Dr. and Riker Rd.

Ralph Norman 1918 - 1982 buried along with his wife Dee Fisher, in the (New) Circle Hill Cemetery located 0.7 Miles SE of the center of Angola IN. From E. Maumee St. (US20) drive south on Circle Hill Cemetery Rd about 0.3 miles to the end.

---
Map of Grave Site

Their web site says the graves are in area 7 block 75 but actually in block 87 in the corner between the University Hospital and the Arboretum near the special flower garden on the edge of the arboretum.

The address is: 415 South Observatory Ann Arbor MI


Pam (Frisinger) MacKinnon is the last grandchild of Rolla and Destina residing in Ann Arbor proper. She is the daughter of Frank Frisinger. One other, George Paul Frisinger resides in Washtenaw County. He is the son of George Paul Frisinger. In the late 1950s, there were 3 children and about 9 grand children in the city and an additional child and 3 grand children in the county.

Pam is the primary person looking after the graves. She sees this as a long term commitment as she and her husband Tom own the adjoining grave site and expect to be buried there.

This picture showing the building in the background should also aid in finding the grave.
As a side note, the grave site of Elizabeth Collins Frisinger's parents are nearby. When I get an exact location I will post it.