This information was scanned from "The Frisinger Family Chronicle March 1980 issue (The only issue) published by James Frisinger. Editorial comments added by my self are all identified with me initials, wnf)
1754: Ludwig Freysinger lands in Philadelphia
Ludwig Frisinger will go down into Frisinger lore thanks to good old American bookkeeping.
The book Pennsylvania German Pioneers by Ralph Strassburger and edited by William Hinke (Genealogy Publishing Co. 1934) reproduces documents on file in the Pennsylvania Archives. These documents are related to Ludwig's voyage to America from Europe. Ludwig came over aboard the Ship Peggy which landed at Philadelphia Oct. 16, 1754. The crew, headed by Capt. James Abercrombie, had passengers from Wirtenberg (Württemberg was a small kingdom in southwest Germany It was combined with Baden in the 19th Century. It is now called Baden-Württemberg, with Stuttgart as it's capitol. wnf) and the Palatinate. (The Palatinate is now combined with Rhineland to make Rhineland-Palatinate and is just north of Baden-Württemberg wnf) According to these documents, the ship had made stops at Rotterdam and Cowes, England. A common immigration pattern at the time was to take a boat down the Rhine River to Rotterdam for transfer to an America-bound ship. (Both Wirtenberg and Palatinate are on the Rhine getting near Switzerland in the South West corner of Germany WNF) (It is also worth noting that the French and Indian War, 7 years war, was from 1754 to 1763 which probably interfered with immigration for a while after Ludwig immigrated and may have impacted him when he first got here. wnf)
The three lists bearing Ludwig's signature are:
1. The captain's list. Here his name is quoted in the book as being "Ludwick Freysinger." (The source also says there were 10 Roman Catholicks and 108 Souls (I assume that means Protestants, mostly Lutherans. There is also a list of those on board which I show HERE. It seems to be different from the Captain's list because the name is spelled Ludwig Fredrich Freysinger although this is the spelling in the typed version and it may have been changed there. wnf)
2. The oath of allegiance. Here it is "Ludwig Friderich Freysinger."
3. The oath of abjuration. Here, "Ludwig Fridrich Freysinger." (An oath of abjuration is an oath to renounce elegance to another country, wnf)
An examination of the signature as reproduced in the book makes one wonder about the translation letter for letter since it resembles none of the above exactly. However, it is safe to say that Ludwig was aboard and on that day spent his first hours on Pennsylvania soil.
Howard L. Frysinger says he uncovered some facts about Ludwig while researching the massive Pennsylvania Archives in Philadelphia some years ago. (Prior to1969 WNF) (Howard L. Frysinger lived in Lansdowne Pennsylvania, born October 2, 1879 and lived to almost 104 dying in 1983. These quotes were based on interviews in 1979 wnf)
One document showed Ludwig purchased land in Windsor Township, York Co., Pa. in 1763, Howard says. (Howard at one point has mentioned that Ludwig settled in Windsor Township in 1755 but a recent conversation with him casts doubt on this particular fact.)
Howard says at least four children were born in Windsor Township: John, 6 November 1766; Anna Maria; Ludwig (Jr.) in 1771; and Jacob, 24 October 1773.
On Nov. 1, 1775, Ludwig purchased 37½ acres of land in Dover Township, York Co., Pa. for 20 pounds Pennsylvania money from John Demint. This is according to existing deeds.
The following children were baptized at Quickel's Church in Zion's View, York Co., Pa.: Elisabeth, 1 July 1776; Peter, 30 June 1779; George, 2 November 1781 (Howard lists it as 2 September 1781); and Barbara, 21 April 1785 (Howard has it as 24 April 1784). They were originally born in what was then called Dover Township. But since the early 1800s this area became Conewago Township.
(Paperwork related to Ludwig's will lists John Freysinger as the oldest sun and a letter I got in January 2013 from Phyllis Keller said he was born in 1773, spelled his first and middle names were "Johan Peter". "Johan" is the German spelling for "John" so my guess is he changed the spelling to the American one by the time he was executing his father's will. The birth date of 1773 and oldest son are consistent with the Quickel's (Quickel Lutheran WNF) church records above. Ludwig may not have been attending that church earlier on. (It leaves open the question of was there other children. wnf)
The sign pictured at right marks the south entrance to the town along the Susquehanna Trail and a block form Quickel's Church. Zion View is several miles north of York (town) in York Co., Pa. Ludwig's "homestead" land is a few miles to the northeast of town.
Howard also says he found a record in the archives showing that Ludwig paid a 3-pound fine for non-performance of military duty for the local militia. This was in May, 1779. Ludwig served under a Capt. Henise (Heh'-ni-zah), Howard says.
Howard says a 1783 record he found in the Pennsylvania Archives shows Ludwig owned 30 acres of land and that he had four male and three female children.
A survey document in the hands of Howard's son Daniel of Glen Mills PA (Now State College PA wnf 12/16/04) shows property bordering on land designated as being owned by "Ludwick Freizinger" in Newberry Township Border markers on Ludwick's land Include the designations "Sassafras," "Black Oak" and "stones." This survey is dated 15 September 1786. (Daniel died 8/28/11, his son, Howard Frysinger of Malvern, PA probably has the materials now)
The 1790 census records show Ludwig was residing in Dover Township, York Co., with a household described as having 2 males over 16; 3 males under 16 and 3 females.
"Tradition is that he had a club foot, "Howard said of Ludwig. "There is another story that he was a good shot and a well-trained soldier. Apparently, he was too old for service in the Revolutionary War but was used to guard prisoners who were encamped near his home."
Howard, quoting what his grandfather Jacob had told him, said Ludwig had one leg shorter than the other. He walked with a cane. Now whether any of this happened in his old age or not, Howard doesn't know.
Howard says that Ludwig was undoubtedly buried at Quickel's Church Cemetery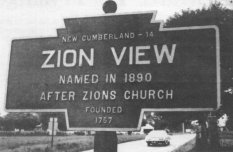 in Zion's View, but he has never been able to locate a stone for either Ludwig or Ludwig's son Jacob, from whom he (Howard wnf) is descended.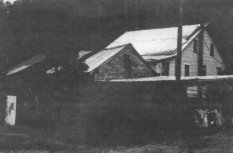 Howard says this house was built by his Uncle John Frysinger sometimes in the 1880s. The stone shed-like structure adjacent to the home certainly predates that and could even have been made by Ludwig who Howard says was a mason by trade. The buildings are on land Howard refers to as Ludwig's "homestead."
By trade, Ludwig was a stone mason, according to the family tradition handed down as far as Howard. His handiwork undoubtedly still exists in the York County countryside, though exactly where is not clear. There is a small stone house/barn (I do not know enough about such things to tell) on historic Frisinger property in Conewago Township (once a part of Dover Township). Maybe Ludwig built that.
I have read nowhere of when Ludwig died or how old he was. His estate was split up in 1818, according to probate records so it is safe to say that he probably died around then. Nor do I know from where in Germany, if indeed it was Germany, he came from. (The court records say he died "before May 19, 1792" wnf)

Click HERE to see a theory of where Ludwig came from in Germany wnf.
Perhaps you have heard more about Ludwig. If so, please drop me a letter. (or e-mail bill@frisinger.net wnf)