The Spouse's (Bill's) Corner

The Island, our former favorite summer vacation spot.

Genealogy of Frisingers 4/2/17

Some of my favorite humor running around the internet.

Some of my favorite material off the web that falls into categories other than humor.
Useful web sites. Software and computer maintenance issues, Computer related definitions, my comments on a number of computer issues like registry cleaners etc. and health related etc. I have them posted here so I can read them when I am away form my computer, typically working on the computer of others or on vacation.

My Facebook page, My login name is bill.frisinger, or search for William Frisinger

Hikes and other Picture Collections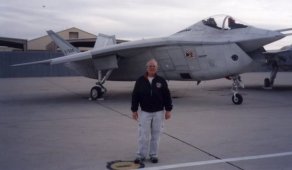 I thought I would take this space to tell you a little about me. I have only a cursory interest in politics. I tend to get deeply involved in campaigns because it is important to support one's spouse. The rest of the time I will be out of sight.
Until August 1, 2001 I was a structures engineer in the Military Airplane Division of Boeing working on the Joint Strike Fighter, JSF (Video) We designed, built and flew 2 prototypes.. It is one of the most exciting programs I have worked on in my 35 years at Boeing. I was initially stationed at Edwards Air Force Base in support of the flight test program. The NASA Dryden Flight Research Center is just down the road about a mile from our offices.
While working at Edwards, I joined a wonderful Church, the Apostolic Shepherd Fold in Lancaster CA. It was a dramatic change from the Presbyterian Church I have attended all my life. I am now attending Eastside Apostolic United Pentecostal Church (UPCI) in Redmond on NE 20th just southeast of Sears. At off times I go to St. Clare's Episcopal Church in Snoqualmie where Ava and my daughter Diane attend. Episcopalians are better than Pentecostals when it comes to celebrating "High Holy Days".
I then moved on to the Naval Air Facility at Pax River Maryland where I worked the last two months before retiring.
Prior to working on the Joint Strike Fighter, I had been a structures enginner for Boening since 1966 working on various projects such as the 707, 727-200, 737, Miniteman Missle III ground support equipment, the Shuttle Carrior Aircraft, IUS (an upper stage vehicle to use with the Space Shuttle and other launch vehicles), E-3A (707 AWACS), and various small programs primarily on the military side.
My favorite recreational activities are all kinds of skiing in the winter and hiking in the Summer. Recently my biggest climb was Snoqualmie Mountain. I have lead a number of climbs on Mt. Rainier (in my younger days) and have climbed Mt. Saint Helens before and after it erupted. Since retiring I have added horseback riding to my list of activates. I am taking lessons with the grand kids. I also try to do a midweek hike each week with my long time retired friend Dave Gimmestad.
I am the one responsible for maintaining this web site so I do stay somewhat involved in politics. If you see any problems with this web site or have any suggestions let me know. I can be reached at: bill@frisinger.net Please note, any spelling errors are mine. I sometimes update without running it past Ava.